Drum Barrels
Certified A-36 steel 

1 1/2-inch and 2-inch thickness

Barrels rolled, 100 percent joint-welded and re-rolled for precise concentricity.
---
Water Sprays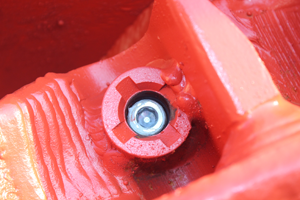 Spray housing and a full range of jet configurations to aid in dust suppression.
---
Water Feeds
Available with drum barrel hose to feed all vanes and face ring.
System protected with dust cover on face end of drum barrel.
Custom-designed water spider distribution unit also available to feed vanes and face ring sprays without use of conventional hoses and protective dust cover.
---
Bit Blocks
C&A Cutter Head bit blocks are the most successful line of blocks used on today's high-horsepowered ranging arms.  In addition to our unique design, our blocks are heat treated and induction bore hardened to provide you with outstanding performance, reliability and life.
Click images below to view larger